Diese Veranstaltung hat bereits stattgefunden.
Judy Dunaway / Hankil Ryu & Matija Schellander & noid / Tatsuru Arai
17.11.2016 @ 19:00

-

20:00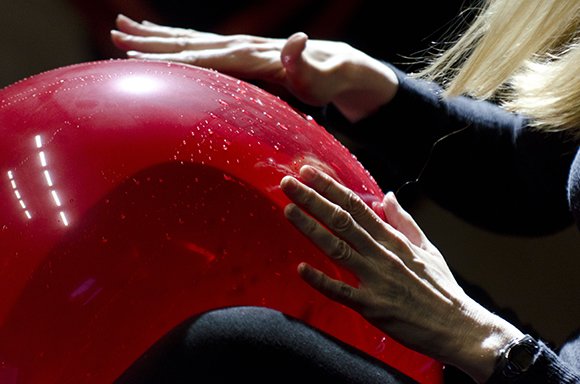 Interpenetration @ 茶々丸
Judy Dunaway
Judy Dunaway performs avant-garde compositions and free improvisations on amplified latex balloons played as musical instruments. She is known
internationally as a "virtuoso of the balloon." She plays a variety of shapes and sizes of balloon instruments, each with it's own special
qualities, pushing the extremes of both pitch range and artistic limits. Her large rubbed "tenor" balloon gives Jimmy Hendrix's guitar a run for
the money and her giant balloon pulsates into the depths of the subaudio.
Her abstract music and sounds are difficult to equate with other forms, depending upon the perception of the individual like the images seen in
fire or clouds.
Judy Dunaway has presented her works for balloons at many major venues and festivals throughout North America and Europe, including Academy of Media
Arts Cologne (Cologne), Avant-Garde Schwaz Festival (Austria), Alternative Museum (NYC), Bang on a Can Festival (NYC), Everson Art Museum (Syracuse), Fylkingen (Stockholm), Frau Musica Nova Festival (Cologne), Guelph Jazz Festival (Canada), Lincoln Center Out-of-Doors (NYC), New Museum of Contemporary Art (NYC), Performance Space 122 (NYC), Podewil (Berlin), Roulette (NYC), CEAIT Festival (Los Angeles), Seltsame Musik Festival (Krems, Austria), SoHo Arts Festival (NYC), STEIM (Amsterdam) and Zentrum fuer Kunst und Medientechnologie (Karlsruhe). She has also performed on balloons with many outstanding musicians including Roscoe Mitchell, Jennifer Walshe, John Hollenbeck, Yasunao Tone, and the FLUX Quartet. CDs of her works for balloons have been released on the CRI (Composers Recordings Inc) and Innova labels, among others.
Hankil Ryu & Matija Schellander & noid
Ryu Hankil – typewriter
Matija Schellander – double bass, victorian synthesizer
noid – cello, jing-hu
In 2013, Noid and Matija Schellander travelled from Vienna to East Asia to meet up with Ryu Hankil and other musicians from Japan, Hong Kong, China, South Korea and Europe. Carrying compositions, sound art pieces and workshop preparations in their luggage to be tested by changing social and artistic settings, by everyday tour life and to be used as starting points for debates in various forms.
The first CD – "Tokyo Office" – is a trio of Noid, Schellander and their main collaborator on this tour: Ryu Hankil from Seoul. It was recorded in the Ftarri shop in Tokyo, an intimate setting, a perfect concert situation for close, concentrated listening. The result is a 44 minute set of unmusical musicality with sounds of typewriter, drums, double bass, cello, jing-hu and victorian synthesizer.
The second CD – "Field Report" – is the travelogue of one month of concerts, field recordings, workshops, dinners, getting lost, missing planes, stretched and contracted gut strings in the temperature and humidity extremes from Okinawa to Beijing, collaborating with locals and other traveling musicians, exposing sometimes strict concepts to confusing listening situations from Seoul rooftops to Osaka market stands to Hong Kong industrial buildings.
Snippets and cuts composed in chronological order to an immersive flow of changing spaces and societies, on the turning point between being in and out.
Hankil RYU is a musician from Seoul, born in 1975. He has organised a monthly event called RELAY since 2005 and established his own publishing office called The Manual. He is interested in finding an alternative musical structure possessed by abandoned objects like clockworks, typewriters and telephones. After discovering the instrumental possibilities of a typewriter, he started to collaboration project called 'A.Typist' with writers lo wie and Taeyong KIM. The collaboration's results were released by The Manual and Mediabus as three CD+Book sets. He is member of FEN(Far East Network) since 2008 and start digital beats project called called 'pilot Ryu' since 2015. it is opposite approach from his past works.
http://themanual.co.kr/
noid /aka Arnold Haberl *1970, studied cello and mathematics. He is teaching at the Multimedia-Art department of the University for Applied Science in Salzburg.
The composer, sound-artist, cello player and improvisor understands his work as fundamental research leading to a wide range of contradictory outcome. Spanning from cello-solo and tape-pieces to compositions for ensembles, improvisation scores or performances with electronic or hybrid instruments, from sound-installations to videos and imaginary music. Also his contributions as a programmer for the freeware "ppooll" (http://ppooll.klingt.org) can be seen in this context. What makes his cello playing special is his approach to find a world within instead of trying to expand the range of the instrument. Looking at the instrument as a fact or maybe even a score in itself without obeying the historical connotations.
http://noid.klingt.org
Matija Schellander (*1981), is an Austrian composer and improvising musician based in Vienna, mostly using double bass, modular synthesizer, and speakers: processing input, moving air output. Schellanders music is conceptual, but it never dismisses the non-rational, sensual communicational possibility intrinsic in music. In recent years he has focused deeply on music for double bass solo, as well as music for feature, documentary and silent films. His most recent releases are "Wir werden" (God rec 2013) with Rdeča Raketa, the electroacoustic duo with Maja Osojnik, and "Esox Lucius" (Corvo Rec, 2015) in a quartet with I. Duthoit (cl., v.), F. Hautzinger (trp.) and P. Vrba (trp, electr.)
http://matija.klingt.org
Tatsuru Arai
Tatsuru Arai is composer/Sound Visual Artist,he studied composition in college of music Tokyo (BA/MA),and Hochshule für Music Hanns Eisler Berlin(MA).His works are performed in Germany,UK,Swizterland,Denmark,Sweden,France,Algentin,Mexico,Japan etc and Opera "Vitruvian" was performed Berlin und London that innovativ contemporary Opera,that to integrate from classical Music to new Technology,His main artistic Thema is to integrate from classical Music to new Technology,as "TRANS-AGES MUSIC". http://www.tatsuruarai.com/#!trans-ages-music/tlr5t
And to present the fundamental physical nature of the universe in the form of perceptional experiences. That could say aesthetics of "geometric structure". The human perception of sound, one physical phenomenon, influences human being and the "geometric structure" is a fundamental pillar that allows us to understand the true nature of the universe. Creating a way to experience even a part of the nature of the universe through sound.
This performance will be new work for Sound-Visual live set from his new Algorithm system"Hyper Serial Music",
http://www.tatsuruarai.com/#!hyper-serial-music/xndjm
In the history of music technology,"Hyper Serial Music" will add innovation from classical Serial music to new music technology,to the principle of Serialism three-point: "structural", "complex" and "noisy". Hyper-Serial-Music is the algorithm music generated by state-of-the-art technology such as Artificial Intelligence than by native human intelligence only.
---
Bildrechte/copyright Ⓒ: Alice Bellati
Bildrechte/copyright Ⓒ: Alice Bellati