Diese Veranstaltung hat bereits stattgefunden.
John Fanning (massaccesi)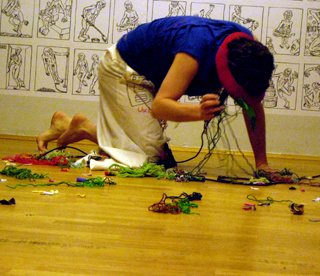 Eine Zusammenarbeit mit chmafu nocord's Interpenetration Festival
Ort: Postgarage Graz
Beginn: 22:00
«Re_Formance» is a performance initiative by New Hampshire, USA based artist John Fanning (who previously used the name Massaccesi as a personal pseudonym but now considers Massaccesi a concept based on a persona).
The goal is to subvert & redefine the idea of how a performance is presented to the public, especially within the context of what could be a concert or a live art execution.
«Re_Formance» exists in between this context and is used within the structure of other concepts & contexts. Using sound, video (featuring his puppet mascots Chicken & Monkey), installational objects as well as himself,  John Fanning will present short films integrated and separated as accompanying live visuals, cut-up, bold and drastic sound compositions and body actions while wearing & de-constructing special costumes made & re-tooled by the artist.
The direction of the performance will constantly change, many times stopping altogether to do something else, watching the show as an audience member, interviewing random audience members (hopefully on stage, but also outside of it), screaming, yelping and
executing vocal exercises at random points, moving constantly but often stopping to further subvert the performance and overall creating an atmosphere of unpredictability.
—-
John Fanning, b. 1978, Los Angeles, CA., US
John Fanning is an artist living and working currently between Den Haag, Holland & New Hampshire, USA. His work encompasses installation, performance, sound, video, sculpture and conceptual ideas.  Embracing a DIY ethic from an early age Fanning has been a self-publishing zine editor, university radio & live party DJ (touring three times fresh out of high school in Europe & Japan)  and conceptual/experimental fashion designer concurrent to his main focus areas of visual art & experimental performance.
Fanning focuses on integrating & blending aspects of installation & performance to create alternative environments that either take over a specific space or occupy an interventional space within a space.
massaccesi.com