Diese Veranstaltung hat bereits stattgefunden.
Rae Spoon and Band
16.01.2019 @ 20:00

-

22:00

€5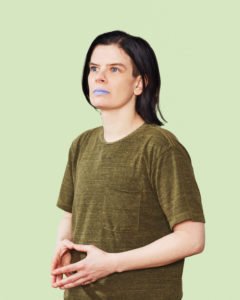 Rae Spoon is an award-winning non-binary musician and author. They have released nine solo albums spanning folk, indie rock and electronic genres and have toured across Canada and internationally. Rae was the subject and composer of the score for the National Film Board–produced musical-documentary My Prairie Home, which premiered at Sundance Film Festival in 2014. Rae owns and runs an indie record label called Coax Records that has released fifteen albums by Canadian and international artists. They have been nominated for two Polaris Prizes, a Lambda Literary Award and a Western Canadian Music Award.
Rae Spoon's bodiesofwater comes out on the twentieth anniversary of the first show Spoon ever played, and ten years after the release of their break-out album superioryouareinferior. As a non-binary person, Rae is no stranger to having an identity that doesn't fit societal and legal structures. Like bodies, water is regulated and increasingly commodified, despite being fundamental to life. On this, Spoon's ninth album, they explore their common ground and connections with the ocean surrounding their Vancouver Island home.
Co-produced by Montreal's Laurie-Anne Torres (Folly & the Hunter, Land of Talk), bodiesofwater was recorded with Torres, respectfulchild, and Terri Upton at The Noise Floor Recording Studio on Gabriola Island. Infectious arrangements of drums, ambient violin, synthesizers, and bass guitar carry the listener through ten new songs highlighted by Spoon's characteristic layered songwriting. Expansive and hopeful, Spoon's voice acknowledges the complications and complexity of despair while maintaining a genuine sense of hope and connection.
The album opens with "I Held My Breath," a song emanating the strength and fragility in confronting sorrow and anxiety. The anthemic joy of "Do Whatever the Heck You Want" encourages listeners to challenge the limitations they put on both themselves and others. Other songs, such as "It's Getting Close" and "Bioluminescent," explore the apocalyptic possibilities in the current global climate, while the role of politicians in determining the future of the land and sea is confronted in "You Don't Do Anything." "Seascape" seeks to destigmatize the methods people use to survive a lack of social support, and the song "In My Town" challenges music and art scenes to better address allegations of sexual violence while supporting survivors. "Undertow" proclaims the advantages of embracing change and "It's Not in My Body" is about longing for the space to simply exist as a body without constantly negotiating the questions of others. Finally, in "Beach Of Bones" Spoon finds connection with the water, air, and land by experiencing them as living parts of the world in which we are embodied.
Rae's first book, First Spring Grass Fire, was published by Arsenal Pulp Press in 2012. The book was a finalist for a Lambda Award in the Transgender Fiction category and was shortlisted for an Expozine Alternative Press Award. In the spring of 2014, Rae was awarded a Honour of Distinction by the Dayne Ogilvie Prize, presented by the Writers' Trust of Canada. Rae's second book, co- written with Ivan E. Coyote and titled Gender Failure, was published in 2014. Gender Failure was on the 2015 Over The Rainbow Reading List and was translated into German. In 2017, Rae also published a manual in the How To Series called: How To (Hide) Be(hind) You Songs detailing their philosophies on music composition.
Quotes:
"Rae Spoon is one of the most important musicians working in Canada today." – Now Magazine
"The mark of a gifted songwriter is the ability to create the most emotion with the fewest notes. Rae Spoon is a master of restraint, conveying both hope and hurt at once through simple melodies." – Exclaim!
"Armour: synths and electronic percussion alongside guitars and Spoon's evergreen vocals, melodic pop and sharply drawn verses, hope and despair." – The Toronto Star
"With Armour, Rae Spoon has recorded one of the best albums of the year, and made a very strong case that they're one of best, and most important, songwriters in Canada. Perfect electronic pop songs that groove, tear at your heart, and seek to create real change." – Silent Shout
"One of Canada's best songwriter." – Aesthetic Magazine
"Spoon's poignant, raw musicality paired with their evocative, powerful vocals have spoken to Canadians across the nation." – The Gateway
"The album, Spoon's eighth solo release, is another stellar electro-based offering of dreamy, rounded and sweetly pleasing pop with, as always, an aftertaste of pretty melancholia." – Calgary Herald
"Steeped in personal themes and experience, Spoon's body of work is truly singular." – The Concordian
"Spoon is an ever-evolving, distinctive experimental artist." – The Overcast
"The haunting, lovely tunes speak for themselves." – British Film Institute
"Queer-positive, electronic-pop-infused." – The Stranger
Bildrechte/copyright Ⓒ: Rae Spoon
Bildrechte/copyright Ⓒ: Rae Spoon