Diese Veranstaltung hat bereits stattgefunden.
?Alos & Upperclass Shoplifters
03.03.2011 @ 21:00

-

23:00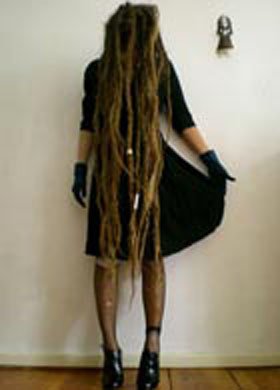 chmafu nocords & KiG! present:
03.03.11 ab 21:00 ALOS & UPPERCLASS SHOPLIFTERS

in der Postgarage, Dreihackengasse 42, 8020 Graz

?ALOS
Another world exists beyond ours, a world hidden inside every mirror. A mirror image of ours, in which the people carry marks of permanent memories that shape (also us) the characters and lives of everyone. Signorina ?Alos is one of this world, she carries on her face the scars of the injuries to the spirit of Stefania Pedretti. That is who ?Alos is: the alter-ego of Stefania, her mirror image. In the paintings of Stefania Pedretti there are the women, the people of that world and across them ?Alos has found the path to reach us since 2003. She toured Italy, Europe and the U.S.A ………….
?ALOS released:
"Yomi, l'oscura terra dei morti"(2010) on Bar la Muerte, a collaboration with Kawabata Makoto and Claudio Rocchetti
"Ricamatrici" (2008) on Bar La Muerte
"Ricordi Indelebili" (2006) on BarLa Muerte, Precordings and Vida Loca records …………
Stefania Pedretti also plays in OVO (with Bruno Dorella)
www.myspace.com/ovobarlamuerte and ALLUN
www.allun.it ,
www.myspace.com/alluninthespace
?Alos did 4 performances:
from 2003 to 2007 "one girl cooking music"
from 2007 to 2008 "one girl sewing music"
in 2009 proposed a special performance "4/5 Senses" ( with Baby Dee at Volksbuehne, Berlin)
In spring 2009 started a new performance "ancestral, pagan doom"; with this one she toured the U.S.A. together with Kawabata Makoto, with Amber Asylum. Open for Earth in " Into Darkness Festiva"l, Portland (USA) and A Storm of Light
NEW SHOW!!!!! PAGAN, ANCESTRAL DOOM: she plays voice,guitar and her long long hair! All in a womanly primordial mystery atmosphere.
www.signorinaalos.com

www.myspace.com/signorinaalos
UPPERCLASS SHOPLIFTERS
Ein Schlagzeug, das kaum den Titel Schlagzeug verdient, Gitarre und Amp, die viel Lärm machen, ein Synthie a la Human League und 2 kostümierte Menschen.
www.myspace.com/upperclassshoplifters

www.wilhelmshowmethemajorlabel.com